Save the unique vessel Noordborg from being scrapped!
The last remaining original Dutch coaster, MV Noordborg needs to be saved from being scrapped!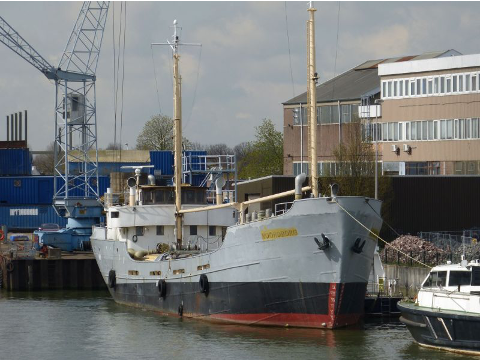 The ship was built in 1962 by the Amels shipyard in Makkum for Royal Wagenborg in Delfzijl.
The Noordborg is the last of 14 sister ships, all built in the Northern part of the Netherlands; these coasters were used for the transport of timber and other building materials, trading mainly in the Scandinavian countries and the UK.
In 1974 the ship was sold by Wagenborg; it stayed a merchant ship until 1992 with different owners and different names like Azolla and Alk.
After 1992 the ship was used as home for a Dutch family in preparation for a voyage around the world. Unfortunately, this plan did not materialize.
Dick van der Kamp Shipsales in the Netherlands became owner in 2006.
In order to preserve the Noordborg as a unique piece of maritime heritage, the ship was dry-docked, steel repairs were made to the hull which was thereafter conserved, all in 2009.
The Noordborg is a fine and unique species of maritime heritage; this has also to do with the engine of the ship: an original Brons 4ED – 220 pk.
Brons is an antique pure Dutch engine brand, still running in various ships, vehicles and machines worldwide; production has stopped some decades ago.
In 2019 an initiative was started to get the Noordborg with its Brons engine back to Delfzijl, her original home port.
Therefore, the MS Noordborg Foundation was established. The Noordborg Foundation executes this initiative in very close cooperation with the Brons Engine Museum Foundation.
The Noordborg Foundation has concentrated its activities on dedicated crowdfunding and realizing financial contributions from foundations active in the field of heritage and cultural-historical and social areas. Unfortunately, it has to be concluded that the latter part is less successful than anticipated.